Thursday, March 30, 2006, 11:36 AM - Video Games For Sale
A few months back some new mini-arcade style games were released. These were develeoped like the old style designs of coleco mini-arcades. You can find them at many places on the web for about $25 each. Spencer Gifts has them all. Frogger, Space Invaders, and The Family Guy Pinball. Very cool! These are color LCD instead of VFD (vacuum flourescent display) screens. All the repros now are LCD, and if someone makes a reproduction in VFD I'll be in tears...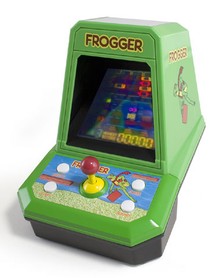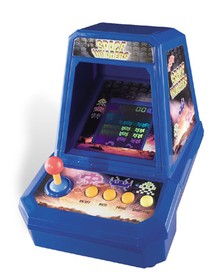 ---
Wednesday, March 29, 2006, 04:49 PM - News and Events
Madrigal has released another simulator after a very long while. The one and only epoch galaxy 2 tabletop VFD!! Play it now!
http://madrigal.retrogames.com/

---
Tuesday, March 28, 2006, 11:29 PM - Submit to the Blog...
I encourage anyone here who wants an announcement made, to submit with all the details and url links to pages or graphics or whatever. I will try my best to post your announcements to this blog. Events, rare games for sale, new or weird items currently on the internet, and so forth. Surprise me! But please, don't ask me to post because you are selling a $20 Game & Watch or something normal like that - we are looking for rare, special, or strange news related to video game culture!
Miniarcade blog is closed
---
Tuesday, March 28, 2006, 11:22 PM - General Info
Hello! Today you may have noticed a few changes to miniarcade.com. The most obvious, is the creation of this blog and also the addition of google advertisements. Miniarcade.com has been completely ad-free since 1999, but now 7 years later here they are - oh no! Well....what can I say - I basically just need for this website to pay for itself. I once posted a donation campaign through paypal to help pay for hosting, domain, and bandwidth costs. Not one single person donated money! Not a dime! Ha Ha Ha rather funny actually.
So now I have added text only advertisements to help offset the yearly costs of maintaining the website. Sorry about that, but I tried to keep it to a reasonable level. When I was testing the ads, I actuall saw some pretty good, often funny sites come up. For instance a strange 'pac-boy' lcd handheld game from China came up for sale through a linked site. I purchased that straight away! If you happen to click an ad every now and then, this helps to support the miniarcade site and keep it alive. If you don't click and totally ignore them, that's OK too.
The other new addition to the site is this blog page. I figured this would help offset the ill-ness of the google ads. So in return I will post things here as often as possible. I will update you on things I see happening in the crazy world of video game culture - both retro and new. Events, news, expositions, new releases, strange finds and discoveries, ebay insanities, handheld games and retro items for sale, yada yada.
And even more will be coming to the website soon. Stay tuned all you game culture junkies... :)
---
Sunday, March 26, 2006, 11:40 PM - General Info
...and only about 2 years too late!
---
Back